Testimonials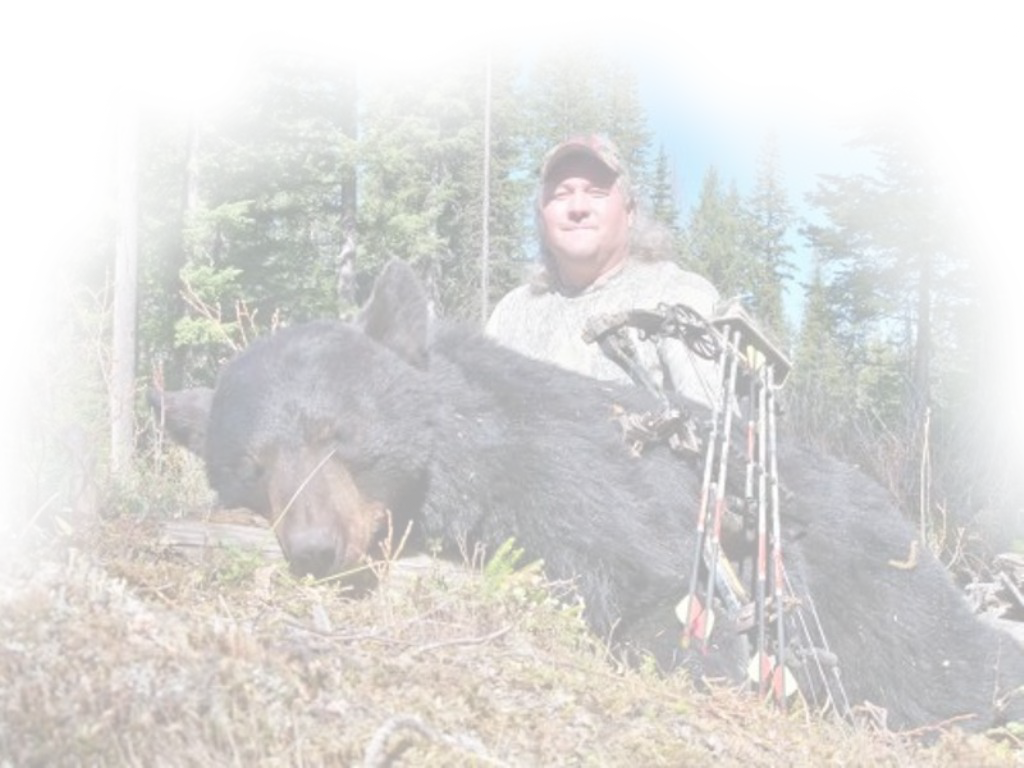 EXPERIENCES WITH BRAD AND LORI OF CARIBOO MOUNTAIN OUTFITTERS

My first Moose hunt was in 1981 with Brad on horseback. It was a fantastic experience. Their rustic cabins kept us warm and sheltered at
night. Lori kept us well fed with great "down home" cooking and packed logger sized lunches for us each day. We hunted hard each day and two of us got our moose while the third hunter missed his chance when he was unable to stand when he dismounted. Brad displayed and shared tremendous knowledge of the flora and fauna of the area as well as the nuances of the hunt and a strong belief in fair chase. It was a very memorable experience and one I planned to repeat in a few years.

That didn't happen as I moved to Alaska and spent 20 plus years hunting there.

In 2009, living in Washington State again, I returned to Quesnel to again hunt with Brad and Lori. The facilities had been updated but the "room and board" was the same - Great!! The people? We were all "slightly" older but otherwise the same. It was great to be back! Hunting
techniques had changed due to the severe beetle devastation to the timber in B.C. The approach was to go to likely Moose habitat, look for sign and call them. This proved quite exciting as each day one or two bulls would answer but not come in. On the third late afternoon we saw a cow with two calves feeding in a lake. Next morning at daybreak we sneaked a difficult half mile to the lake. During the sneak we could hear two bulls a few 100 yards apart in the timber across the lake grunting at each other. At the lake , we set up and the guide started cow calling. They would answer every time but not come out. After about one hour one came out to the opposite lake shore and moved around the end of the lake to meet the love sick "cow". It was self defense! Spent the last four days hunting for a large black bear and/or mule deer. All three hunters in camp got their Moose. Another great experience!!

In 2012, freezer empty, back to Brad and Lori for the early Moose hunt on the Cariboo River in the Wells area. This required staying in lodging in Wells and eating restaurant food. Good but Lori's cooking much better! Four hunters in camp. Weather had warmed up and Moose
hiding. On the third day two hunters stayed on the river and a guide, ED, and I went high in the surrounding mountains. The two on the river got their Moose and we found a few cows with a large bull who refused to come out of the timber to play. Next morning, in the same area, my guide called out a very nice meat bull for me. He sneaked to the call without ever talking to us. That afternoon, after hours of conversing with the huge bull, the guide got him angry or excited enough . He charged out of the timber and the last hunter got his first Moose _ a real wall hanger. After that everyone hunted for deer and/or bear. On the last day, near dark, Brad with Ed and I observed a beautiful Silvertip grizzly sow with three silvertip cubs - fantastic luck! Speaking of luck, on the day we all caravanned from Wells Gray toward Quesnel, we saw very nice Caribou bull loitering along the road. Cameras out! Was it a great hunt, you bet! When my freezer is near empty, I will be back!

Thank you Lori, Brad and assistant guides for making my visits so pleasant
and memorable.

Larry Wisman

I have been dreaming of moose hunting since the age of 12 and after 50 years of waiting I decided that they weren't going to come up and knock on my door and ask to be shot. So I did the next best thing. I booked my dream hunt with Brad and Lori at Cariboo Mountain Outfitters.

From the beginning it was a dream come true. Brad was extremely helpful with all the organizational paperwork and extremely patient with the numerous questions that I asked prior to the trip pertaining to the hunt and all associated with it. I was a bit apprehensive as I was going on my own and it was a long ways from home to be with a bunch of strangers on a hunt.

My worry's were unfounded. The other hunters were from Washington State as I am. Brad and Lori were wonderful. Ian and Darrel, the other guides, were top of the line. We stayed in Wells and hunted from the Jet boat on the Cariboo River and out of the vehicles. Even though the weather was unseasonally warm we all were able to harvest moose.

The accomadations were great, the food was wonderful and I couldn't have asked for a better trip. Everyone was upbeat the entire trip. Now that I have fulfilled my dream I am anxious to return with my son and give him the opportunity to "get his Moose"
Ed McNett

An Unsolicited recommendation for CARIBOO MOUNTAIN OUTFITTERS!

N.J. Schafer MD- December 2010
In September of this year a friend and I hunted Moose with Mr Bowden. It was truly a pleasurable trip, all gear and vehicles were well maintained, the food and accomodations excellent. These men HUNT! We were in the hunt at first light and did not start to return until dark. The meat was very well cared for and ours arrived home with no spoilage. The countryside is beautfiul and resembles Western Oregon. The Cariboo River is gorgeous and the jetboat rides along are worth the trip!
So if you want to hunt go with these men. If you want to be pampered, get drunk and party all night-Go someplace else!!!

NJ Schafer MD Ph: 541-942-8955
elkdoc@msn.com

Cottage Grove, Oregon

James Tyner
I've hunted with Cariboo Mountain Outfitters for more than ten years and have enjoyed every hunt.

Brad and Lori Bowden (owners and operators) know how to make each trip a good one. Their knowledge of the area and expert skills have made each hunting experience enjoyable to the highest level. I've also enjoyed fishing for native trout as well as hunting.

Having never returned without either a moose or mule deer leaves me anxiously waiting for the next year's hunt.

James Tyner
Toledo, WA.

Doug & Mona Hoselton
Doug had always wanted to go moose hunting since a young man. His father had gone once & had great stories about it & they were to go someday together but it never happened. Now a grown man, married & with grown children he knew he had waited long enough. It was time. A friend had recently gone moose hunting thru Cariboo Mountain Outfitters and was really happy with his trip & highly recommend this guide service. Doug called & talked to Brad Bowden & liked him right off just talking to him. He set up a trip for four of us. So away we went Doug & myself, our nephew & a close friend. We were all very excited about this trip & not really knowing what to expect as none of had ever been moose hunting before or on a guided hunt.

Now, here we are at the camp site, it is a beautiful country side with lots of trees, creek running down below the cabins & horses grazing out past the barn. We look at each other & smile thinking this is great. I was very happy to see we were going to have a real cabin & being a woman even happier to have an
indoor bathroom even a tub. Yeah. We got settled, visited had a great dinner and fun evening visiting & getting to know the guides & Lori, Brads wife with a spunky personality and also the chef.

Now the hunting was on horses so this was an experience for all of us as we had always just footed it at our home hunting grounds in Oregon. We did have options on how we wanted to hunt, drive & walk or horses. After a huge breakfast each of us was given a very large packed lunch and off we go. We had
two guides for the four of us and were taken in separate units. The guides were very attentive & worked hard to find game for us. So three of the four of us got our moose. I had my chance but it just didn't happen. We had a great time each day, tired but happy.

Brad , Lori & their guides were all so friendly we felt as ease with them & joked around a lot. We all felt they all worked very hard to make our trip one we would never forget & have memories & stories to tell our family & friends. They succeeded. Yes, we had such a good time two years later Doug , our daughter & myself went again. And this time I got my moose , a nice big one. Not sure who was the happiest, Doug, Lori, Brad or me. Brad worked very hard for me & never gave up on me. Doug & Terri got theirs too.

Another great trip with lots of adventures, great meals & comfortable cabins. We have told lots of our friends & people we meet about Brad & Lori's guide service & always tell them they should really go for at least one trip. We are glad we did. And again, Doug went on his 3rd trip and Terri on her 2nd with them both getting their moose. Success again. Now Doug wants to go for a bear & I am sure he will.

Doug & Mona Hoselton
Corvallis, OR
Kip Goodchild

Dear Brad and Lori,
I would like to thank you for giving me an experience of a lifetime. I truly enjoyed visiting with you guys each day during the hunt. I also loved all the jokes you and your guides told. I never laughed so hard for that long, it was great. Brad/Lori, I truly appreciate your personal attention towards all the hunters. At no time did I feel out of place in the week I was there. I was very surprised through out the hunt Brad's wide spread knowledge of the wilderness and his willingness to share the knowledge, including Canadian
history.

Lori, it was very comforting being that far away from town knowing that you were a Licensed Practical Nurse. I new I was not far from help. The accommodations were outstanding including the food and the warm log cabins. It was great to wake up each morning with a fully prepared hot breakfast, a packed lunch and
then in the evening coming in to a hot meal.

I was truly amazed at the amount of animals we saw and the fact that all four hunters were tagged out in only four days. In four days we were able to take four moose, four mule deer and one really big bear. That is what I call awesome. Brad, I was surprised with the remaining days that you continued to
ensure us a great time by taking us out fishing, grouse hunting and sight seeing. I really thought that was fantastic.

I would recommend Caribou Mountain Outfitters to anyone that would love to feel at home with the family and have an extremely positive experience. I know I did!

Yours Truly,

Kip Goodchild
Flower Mound, Texas

Teri McAvoy
Trying to summarize the Bowden's and their Caribou Mountain Outfitter Company in a paragraph is trying! My first trip was in 2002 and second in 2004; most memorable experiences! We filled our tags of moose and deer, indulged in amazing home cooked feasts, learned to play cribbage and laughed so hard our stomachs cramped at Brad's jokes (still don'Â?t know if it was really the jokes or him thinking they were funny). Our cabins were always clean with plenty of wood chopped for the stoves, hot baths everyday; luxury in the woodland! I would highly recommend these amazing people and their beautiful homestead for anyone wanting a hunting experience and a VACATION!

Teri McAvoy
Corvallis, Oregon USA

Sarah Lee Sofich
Hunting up at Brad and Lori's was easily the most amazing experience I have ever had. My Grandfather, Doug Hoselton, took me up to Cariboo Mountain Outfitters before I left for boot camp in November, It was my first time up there. This was the greatest gift of all time and would be for many I am sure. Everyone was so professional yet personal, trying with there utmost efforts to get our kills. There was never a dull moment at the Bowden's, for example- as soon as we got up to the lodge and unloaded our gear and whatnot we decided to go take a look around and see what we can find. That afternoon I got lucky enough to shoot my very first buck, a beauty I must say! Thanks so much to Josh and his mountain man senses, He spotted that buck through that thick of tree's, neck ruffed up and all. I think of it as everything happens for a reason and that big boy was meant to be mine. If anyone out there has not yet experienced Canada in all of its beauty, let the Bowden's and their guides take you on that adventure, you will never regret it. Thank you so much Brad, Lori and Josh!! I will come up to visit soon enough!

Sarah Lee Sofich
Corvallis, Or

References available upon request
Due to the privacy of our clientele, contact us for further references. Most of our clientele exists from repeat customers and referrals. Thank-you.